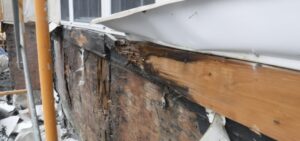 Over time, stucco system drainage deficiencies can lead to serious moisture issues in a home or other structure, as water intruding into the walls will inevitably cause mold and mildew growth (along with other potential issues). While the origins of the problem may not be immediately visible on the surface, an invasive stucco inspection goes deeper to pinpoint the root cause(s) in an imperfect stucco system. Let's talk about what this procedure can reveal and what the next steps might entail.
What Can An Invasive Stucco Inspection Tell Me?
During a stucco inspection, an expert will:
Begin by looking for surface-level signs of water intrusion, including water marks, active leaks, stucco cracking or deterioration, etc. 

Perform moisture testing to determine where and to what extent moisture damage is present. 

Generate a report detailing the results. 
If water damage is found, they will most likely recommend following up with a remediation professional to correct the present flaws and damage in your stucco system and prevent additional damage from occurring.
We Are Eastern PA's Stucco Remediation Experts 
At Ai Restoration, we know that learning your stucco system is failing can be overwhelming. In turn, it's essential to find a trustworthy remediation team on which you can depend to be detail oriented and thorough in remedying the damage.
After a professional assessment suggested that stucco remediation was necessary to safeguard his family home, Joe turned to Ai. Here's what he had to say about the experience:
"Ai Restoration was recommended to us by the individual who performed the invasive stucco inspection test on our home. We contacted Andy Risbon of Ai and, just speaking with him on the phone, you could tell he knew what he was talking about. When he arrived at the house, he took the time to explain the issue to my wife and me and also spent time answering all of our questions and concerns. 

Ai kept us informed of the start date and arrived promptly on that day. From start to finish, everyone that came to the house was courteous and well informed as to our issues and what needed to be completed. They are a top-notch company who truly understand the total customer experience."
Stucco Concerns? Reach Out
For eastern PA stucco remediation that will stand the test of time and effectively protect your structure thanks to well-designed, top-quality solutions, look no further than Ai. Get in touch at 215-794-6858 for a free consultation and product demonstration.