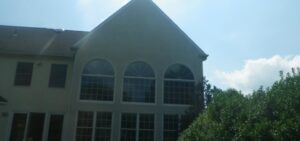 When comparing stucco contractors in my area, be advised that not all are created equal when it comes to the quality of their service and work. For professional, detail-oriented stucco installation and remediation work alike, Ai Restoration stands out above other local contractors serving the Bucks County, PA area. We're here to tell you more about our process and what makes it superior.
For Stucco Contractors in My Area, Ai Is Eastern PA's Elite Choice

When you notice that something's not right with your home's stucco siding – whether it's bowing, cracking, coming off or showing stains from heavy rain – it can feel very stressful. You're right to be concerned, as stucco issues can turn into very problematic water damage before long. Mold, mildew and rot are just a few of the unpleasant possible realities of a faulty home exterior that lets moisture into the walls.

At Ai Restoration, we work to get to the bottom of why your stucco exterior is failing, whether it's due to:

Poor installation practices

Use of low-quality products

Missing or improperly incorporated siding system elements (flashing, drainage path, etc.)

Or some mix of the above
Beyond the stucco or siding itself, we'll ensure that every layer and component of your home's greater exterior system is properly protected against water intrusion. Our complete remediation approach delivers a level of thoroughness you won't get with simple stucco "repairs." By actually solving the inadequacies rather than just putting a bandaid on them, we'll make your exterior issues a thing of the past rather than a recurring nightmare. 

Get Peace of Mind That Your Stucco Concerns Are Resolved
Proudly offering the best stucco contractors in my area for residents of eastern PA, Ai Restoration is committed to delivering real solutions to a wide range of stucco problems. In the two decades since our founding, we've worked on structures of all sorts, ranging from single-family homes to large, multi-story apartment buildings and businesses. To schedule an appointment to learn how our exterior building envelope specialists can help with your stucco or other siding needs, give us a call at 215-794-6858 and ask for a free consultation at your property.