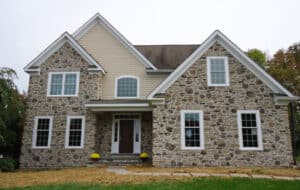 Stone and stucco are two popular building exteriors which have distinct looks but are actually applied in a very similar manner. Whether you're looking for help switching from one to the other or you're interested in a combination of these siding options for your eastern PA home, Ai Restoration has the expert stone and stucco contractors needed to make your project a success. In addition to new installations, our pros also provide remediation services for problematic exteriors. Read on to learn more about our comprehensive services.
Seeking Stone and Stucco Contractors? Learn About Our Specialists

If you've noticed that something seems "off" with your siding – whether it's cracking, bubbling, deteriorating or visibly letting water into your home at places like windows and doors – Ai can help. Our experienced stone and stucco contractors are well versed in effective remediation procedures and use only top-of-the-line products and systems to properly restore structural exteriors of all sorts. 
Alternatively, if you don't have any particular concerns about your siding but are simply ready for a change, we can help you go from stucco to stone (or vice versa) via the right process to make sure your home's exterior protection is not compromised. 

At Ai, we offer an array of stucco and stone products that afford both beauty and resilience. Manufactured stone veneer in particular can offer a number of advantages, including:

Low weight, which makes for simple, cost-effective installation with no need for additional structural supports

A wide variety of color and design options

Impressive longevity and resemblance to real stone
Whether you choose natural stone, stone veneer, stucco or another siding option for your home, you can rest assured that it will be installed correctly to provide a long-lasting shield against the elements when you partner with our knowledgeable team.

Call On Us for All Your Exterior Needs

If you're seeking a trustworthy company to help ensure your eastern PA home's exterior is properly installed for long-term performance, look no further than Ai Restoration. Our standard-exceeding installation systems, practices and warranties paired with our extensive experience and commitment to customer satisfaction make us the area's best choice for any home exterior project. To schedule a free in-home consultation and learn more about our services, call us at 215-794-6858.