Stucco and trim color combinations typically follow the patterns that you may notice in many homes these days. Folks tend to go for neutral tones. This is because an elegant stucco and trim color combination palette provides a perfect backdrop for sweeping porches, stately wrought iron, and much more.
Alternating Tone On Tone
Using two tones of the same neutral color family allows for an aesthetica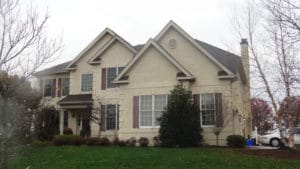 lly pleasing look without being too much for the general home shopper. For example, a soft beige trim accenting a deeper sandy tan exudes warmth without being overpowering in color. The same goes for an icy gray trim with a deeper gray trim.
Clean Contemporary Classics
Most popular stucco and trim color combinations are tried and true. Any neutral combinations couple together to please the eye and create an elegant look for your home. Some of our top favorites are:
Sandy tan stucco with white trim: The white trim accent allows the warmth of the sandy tones to emanate from your home.
Icy gray stucco with white or black trim: Some prefer this darkness of the black, especially if they also have wrought iron as part of their homes exterior. A clean, crisp white offsets other features of the home, such as a sprawling veranda, with beautiful simplicity.
White or off-white stucco with deep espresso brown: These two complement each other wonderfully as well. Reminiscent of a tudor-style color combination, this stucco and trim color combination will set your home apart with stylish sophistication.
Bold and Trendy
If tried and true isn't for you, consider a bold color for your trim – royal blue is a vibrant hue that's hot in the market right now. It pops and grabs the eye of passersby. We've also noticed an upswing in black trim offsetting a khaki stucco. This combination is definitely sharp for the trendsetters out there.
The #1 Combination In Stucco? Ai Restoration and YOU!
No matter what stucco and trim color combination best suits you, Ai Restoration can help. With nearly 20 years of experience in stucco installation, water remediation, and exterior restoration, we will provide you with honest, quality service. Whether you're choosing the desired texture for your stucco or aren't sure about the right exterior for your home, we have the know-how to guide you. Call us for your consultation today!