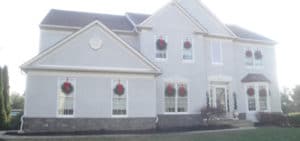 Both stucco and stone have a more natural look. Together, they create an aesthetic that both stands the test of time and catches a lot of attention in today's housing market. If you already have a stucco home and are ready to restore, consider adding stone veneer for an intriguing addition. If you're considering moving away from siding into stucco and stone, read on to find out what stucco and stone homes have to offer. Looking for some inspiration? Check out one of the stucco and stone homes we remediated.
The Appeal of Stucco and Stone Homes
Durability: With nearly 20 years of experience, the experts at Ai Restoration know exactly how to install both stucco and stone that will protect your home for the long haul. Stucco that is properly installed and cared for can last for a century. It acts as a tough, moisture-resistant surface against harsh elements. Stone acts in concert with stucco, although whether you choose natural stone or man-made veneer will impact care, cost, and longevity.
Energy Efficiency: Stucco is sought after not only for durability but also for its energy-efficient nature. Using stucco can lead to lower heating and air conditioning costs. With stone's natural ability to hold heat, stone also lends itself to potential lower energy costs in the winter.
Personality: Beyond the quality and value of stucco and stone comes level of pride you feel in your home's appearance. With a wide variety of finishes and color options, stucco is sure to please even the most finicky tastes. Stone also gives you alternatives between natural stone and manufactured veneer, which can be colored to achieve the precise look you want. At Ai Restoration, we have the expertise to guide you through the selection process and achieve the look you want.
Ai Restoration Are Your Local Stucco and Stone Experts!
Both stucco and stone have been around for ages and are tried-and-true materials for siding that look amazing and last long. When deciding on the perfect exterior for your home, there are so many choices. Ai Restoration is skilled in all of them. If you're interested in restoring or updating the exterior of your home, call us at 856-794-6858 today!