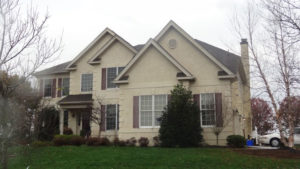 Vinyl siding is a type of siding often used on homes in the northeast. But if you're looking to take your home's exterior from basic to breathtaking, Ai Restoration has three brilliant recommendations for siding alternatives.
Striking Siding Alternatives
Stucco: To give your home an elegant facelift, stucco is an appealing choice for many homeowners. Stucco is great for your forever home or for a home you hope to resell some day. Stucco is a durable, energy-efficient, and water-resistant exterior, as long as it's properly installed and maintained. In fact, it can last for 50 years or more when well-cared for by stucco professionals. Plus, with a variety of popular stucco finish options to choose from, ranging from classic lace to contemporary smooth, there's sure to be a stucco style that appeals to you and works with your home.
Stone: This option can create a rustic or sophisticated vibe. Stone definitely makes homes stand out. Most homeowners utilize stone as an accent to create a striking exterior. When you consider all of the possibilities of color, texture, and fabrication that stone veneer offers, the choices are nearly endless!
Stylish Combinations: Not sure if you want to commit to one new style? Want to keep some of your vinyl as well as mixing in something new? At Ai Restoration, we frequently install vinyl, stucco, and stone in a variety of combinations. We are experts at properly installing all of these types of siding, and we would be happy to share some design ideas that will make your home stand out in the neighborhood and have incredible curb appeal.
There's No Alternative to Quality Installation: Choose Ai Restoration
Whatever kind of exterior you choose, at Ai Restoration, we pride ourselves on experience and knowledge for installing all types of home exteriors. We've had nearly two decades of experience creating long-lasting, beautiful, quality work. While other companies may offer lower prices or faster installation, they sacrifice the quality of craftsmanship and materials required for a stunning exterior that lasts. Call us today to schedule a free, personal consultation on siding alternatives to create your dream home exterior.