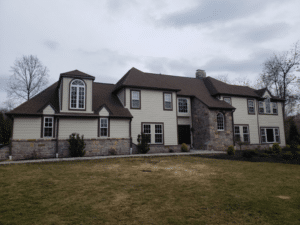 Age, storm damage, poor performance, fading or simply desiring a new look — there are many possible reasons why you might opt to switch out the siding material on your eastern PA home or business. When planning this project, many wonder: Should you remove old siding before installing new? Indeed, this is among the most crucial elements of successful siding replacement. Let's learn why!
Should You Remove Old Siding Before Installing New?
While you may be tempted to save time and money by leaving the existing siding on your structure, the reality is that doing so will almost undoubtedly cause issues you definitely don't want. Here's what we mean by that:
There's far more to a siding system than what meets the eye. Underneath what you can see, there needs to be a leak- and mold-prevention system designed to effectively route and drain out moisture and other elements. 

The proper drainage system components and layout will vary based on the type of siding. Every siding system needs a moisture management solution, but this will never be a one-size-fits-all situation. This is why the present siding should definitely be removed; so that the system underneath may be altered as needed before the new siding product is installed.

By skipping the step of siding removal, you set yourself up to contend with very undesirable and costly problems like mold and mildew growth, rot and leaks.
Now that you understand the reasoning behind the affirmative answer to "should you remove old siding before installing new?", you're ready to move on with your exterior rejuvenation. Ai Restoration is a highly qualified local team that can help you realize your vision, with expertise in installing and remediating vinyl, brick, stone, stucco and other popular siding types.
Get Effective, Stunning Siding with Ai
At Ai, we deliver exteriors that not only look beautiful, but also perform outstandingly well over time — thanks to our top-quality systems and meticulous attention to detail when installing them. We correct faulty siding systems and perform brilliant new installations that offer excellent protection against the elements. To learn more, set up a free on-site consultation with us by calling 215-794-6858.