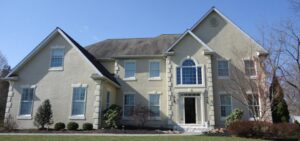 When properly installed, stucco makes a durable siding that can stand up to the elements. In turn, it is a common choice for eastern Pennsylvania home and business exteriors. But what about when stucco begins to show signs of premature wear? Patching stucco exterior in problem areas might be your first instinct. Unfortunately, stucco system inadequacies are rarely localized and are far more commonly widespread, meaning they'll take a more in-depth solution to truly be remedied. Let's talk more about how to effectively handle stucco problems.

Patching Stucco Exterior: Does It Work?

If you notice imperfections like cracks, deterioration or staining on the surface of your stucco, there could potentially be a whole lot more damage lying underneath. These are all tell-tale signs that the stucco system is being overwhelmed by moisture, likely due to flaws with the system components. These could include:

Lack of a high-quality moisture barrier and well-designed path to facilitate swift drainage of moisture out of the stucco

Missing control joints, leading to stucco cracks and allowing water to penetrate

No weep screed, meaning moisture that gets behind the stucco has no way to drain out at the base 

Among other possible concerns
Even if the situation doesn't seem severe, it's important to get your stucco professionally evaluated sooner rather than later if you notice any damage. Our clients David & Sarah faced a situation where they wanted to sell their New Hope, PA home, but when the potential buyer requested a moisture test on the stucco, it uncovered extensive wood rot and other underlying damage stemming from issues with the siding system installation. 
Fortunately, our team was able to draw on their expertise and utilize top-quality systems to provide a comprehensive stucco remediation solution that handled all concerns at their source. This meant going much further into the system than simply patching exterior stucco in order to fix the true origins of the issues and make sure they wouldn't happen again.

Put Siding Concerns to Rest with Our Experts 

Whether you've owned your home or commercial property for a short time or decades, and whether you're looking to sell it soon or stay for many additional years, Ai Restoration can help you skillfully tackle any siding system issues to ensure the longevity and safety of your structure. To learn more about our proven exterior solutions, call us at 215-794-6858 to arrange a free consultation.