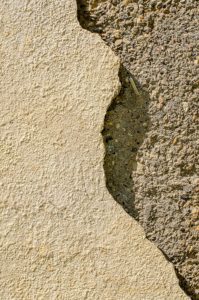 Depending on the age of your home, the stucco might be so old that it needs to be replaced and any underlying issues remediated. Old stucco can be problematic, especially if you don't know of the issues that could be plaguing the exterior of your home. Many stucco issues can wind up causing damage inside the home, especially when water is involved. Today, the team from Ai Restoration provides you with information regarding the most common problems found with older stucco and when it is time to remediate.
Stains on the Stucco
One of the most common issues you will see with old stucco is staining. Stains can be found anywhere on the stucco of your home and most often occur because of poor drainage. When water gets behind the stucco it can cause moisture, mold and mildew problems within the exterior walls of the home and seep into the home. Stains can be removed by cleaning the stucco, but they might be so deep that the stucco needs to be replaced and mold behind it needs to be remediated.
Deterioration of the Stucco
When the stucco on your home deteriorates it is time to consider replacing it. Stucco can deteriorate if you fail to keep up with it over the years. Stucco can also deteriorate because of poor installation, the weather, and other issues. You will notice a lot of pieces of stucco on your driveway, in the flower beds, on the grass and other areas around the exterior of your home. These chips of stucco are a sure sign it's time to fix the problem.
Cracks in the Stucco
It is very common to find cracks in the stucco of your home no matter how old it is. Cracks happen because of poor installation, the weather, rain, and damage to the home. If you fail to have cracks in the stucco fixed, they can stretch further around the home or chimney to the point where the stucco deteriorates completely to the point of falling off the home.
Call Ai Restoration Today
Have you noticed any of the issues outlined in this post with the old stucco on your home? If so, you need to call the experienced and trusted team at Ai Restoration at 215-794-6858 to schedule an appointment at your home. We are here to remediate all of your stucco problems so your home is not affected negatively.