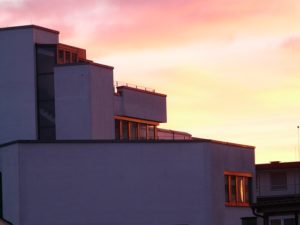 Homeowners often wonder about the safety of their homes in various natural disaster scenarios, like floods, earthquakes and fires. Homeowners with stucco siding might be curious how stucco holds up during flooding or may be wondering, is stucco flammable? Let's explore the safety of stucco and how proper installation can affect your home's safety.
Stucco is Fire-Resistant
One of the benefits of having stucco installed on the exterior of your home is that it is fire-resistant. Since stucco is fire-resistant, and brick and stone siding also rate well for fire resistance. Vinyl siding, though it does have other benefits, does not slow the spread of flames, so is not recommended for homes that are at high risk for fire. In order to truly be effective as a fire resistant material, stucco (and other siding) must be installed properly by specialists.
One-Hour Fire Rating
Most forms of stucco achieve a one-hour fire rating when tested against flames. What does this mean for you? It means that those inside a home or building with stucco installed on the exterior will have one hour to prior to the material being affected by the heat of the fire and then the flames spreading into the home. With how fast modern homes burn (less than three minutes to escape compared to 17 minutes years ago) these days, having stucco on the exterior might save your life one day.
Stucco is Not Always Water Resistant
Homeowners worried about water damage to their siding should know that stucco can encounter serious moisture problems if installed incorrectly. Water needs a proper drainage path out of the stucco, or else it can stay locked behind the stucco and cause mold and rot, damaging the exterior of your home. Stucco with proper drainage systems in place, however, will effectively direct water away from the house and keep your walls dry.
Contact Ai Restoration for Your Stucco Project
The experienced and skilled contractors from Ai Restoration have been installing stucco on the exterior of homes for two decades. If you are ready to replace the traditional siding of your home with stucco, or want to update the existing stucco of your home, be sure to call us to schedule an appointment for service. Call our office at 215-794-6858 today.