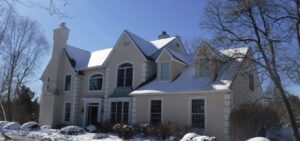 When purchasing or renovating a home, the exterior cladding material and its long-term performance should be a matter of primary concern. After all, an improperly installed siding system can lead to major headaches and safety concerns, necessitating expensive intervention down the line. With this in mind, many house hunters in eastern PA — where stucco is a very common siding material — wonder: How long does stucco last on a house? Let's discuss.

How Long Does Stucco Last on a House?

When installed the right way — with a full moisture management system underneath, allowing water to drain out of the siding and thus preventing mold, mildew and leaks — stucco can be expected to continue looking great and performing well for many decades. 

Unfortunately, there are all too many cases where:

The proper installation techniques are not followed

The products used are of inferior quality 

The stucco itself is fine, but what's underneath is not sufficient to manage moisture, leading to the stucco being overwhelmed and water intruding into the wood frame and even the interior walls
Even installing stucco in the wrong weather conditions can affect its long-term performance. So, it's vital to ensure you are partnering with true exterior professionals who have the necessary qualifications to remediate or install your stucco siding for lasting protection.

Explore Stucco Solutions with Our Specialists 
At Ai Restoration, we provide stucco remediation and installation solutions that you can depend on to stand the test of time. Our highly trained and detail-attentive professionals have been addressing stucco concerns for more than two decades, meaning we're well equipped to assist current or prospective homeowners facing problematic stucco systems. We also have experience with stone, vinyl, brick and other excellent options, in case you're ready to move away from stucco for part or all of your siding.

We're proud to offer a complete warranty that covers every element of our exterior transformation work, which is something you won't get with most companies in the area. To learn more about our top-tier products and service, reach out to us at 215-794-6858 to arrange a free in-home consultation.