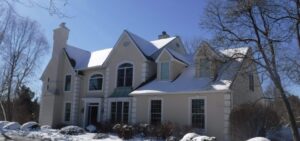 As is the case with any siding system, a stucco building facade must be properly designed and installed to stand the test of time, through rain, wind, snow and ice. When damage such as cracking, buckling or chipping appears on a stucco structure, you may wonder who can fix stucco exterior walls. At Ai Restoration, we do more than just repair stucco – we remediate it to address the root causes of these problems so that they will not recur and cause further damage. 
How We Fix Stucco Exterior Walls the Right Way
Whether you are concerned about the stucco on your home or commercial property, our exterior specialists will apply world-class skills and techniques to resolve any and all issues the proper way. To give you an example, here is Betsy's testimonial about the high quality of our work on a large and in-depth siding remediation task:
"Ai Restoration was hired by our condominium association for a large stucco/stone remediation project for our community of 30 carriage homes. Gavin Semrow and his team are focused on providing quality craftsmanship and customer service. He met with our Board on a continual basis, offering updates and detailed explanations, especially when unexpected issues arose. 

Gavin's team took pictures of each area as the work progressed to accurately document what was being done. His onsite team was led and supervised by Brent Robinson, who always had a smile and ready answers when needed. We would highly recommend Ai Restoration." 
Entrust Us for Full Remediation That Lasts 
With more than two decades of expertise, our team brings simply unmatched knowledge and attention to detail to every remediation project, whether it's one single-family home, a whole development or a multi-story building with moisture issues caused by improper siding installation. 
We fix stucco exterior walls by pinpointing and thoroughly addressing what is damaged or missing behind stucco. Plus, we are highly trained to work on: 
Brick

Stone

Vinyl 

And beyond 
…always installing a top-of-the-line water-resistant barrier and the necessary drainage components, according to manufacturer instructions for the chosen siding product. To learn more about how our exterior solutions provide long-term protection, reach out to us at 215-794-6858 for a free consultation.