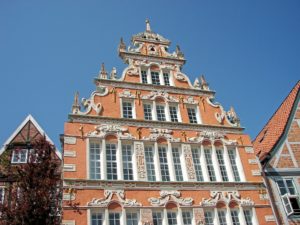 Stucco has consistently been used throughout history, all over the world. Because of its durable nature and timeless appearance, stucco has remained a popular art and architectural choice over time. Read on to learn more about the living history of stucco.
Not So Humble Beginnings: History of Stucco
Egypt. Greece. Rome. Mesopotamia. India. These famed ancient societies known for their beautiful art and incredible architecture are among the first to use stucco. They frequently used stucco both in art and architecture. Stucco was used to create statues and sculptures, as well as provide exterior protection on buildings. This multi-faceted material was sought after because it was affordable and versatile.
Fast forward to the 1800s in the United States, when stucco was chosen as a building material, especially for influential political and religious structures. Traditionally in our country, stucco is most often used in residential construction or smaller commercial buildings. However, the look and make-up of stucco has changed over time.
The Evolution (and Revolution) of Stucco
Since its inception, the word stucco has been used to describe a material applied in layers directly on to a building surface or on wire mesh. Once formed with a mixture of lime, sand, water, the stucco industry was revolutionized with the advent of portland cement. After this product became readily available, stucco became popular once again.
In fact, stucco trends include many different regional influences, such as Spanish, Mediterranean, or Tudor. Though before these styles were limited to the regions that influenced them, they have since spread throughout the country. Stucco homeowners do not have to be limited to a specific color, style, or texture. Simply seeking out a qualified expert in stucco installation, remediation, and restoration, such as Ai Restoration, will lead you to the best that stucco has to offer.
Stuck On Finding The Right Company? Call Ai Restoration!
For nearly 20 years, we have earned our expert reputation in the stucco industry. This has developed due to our honest and thorough estimates, followed by our high-quality and professional service. From the very first time you contact us, our priority is to provide you with accurate information based on our vast experience and your individual situation. We don't treat you like one of many, because your home's stucco needs won't be solved by a one-size-fits-all approach. Call the stucco specialists at Ai Restoration for stellar stucco results!