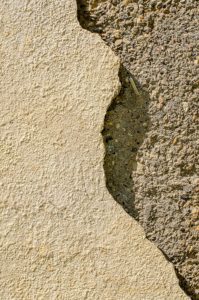 Before fixing stucco cracks, you must determine the cause. Most stucco cracks are a sign that something is wrong. It's important to figure out if that issue is merely surface level, or if it's a sign of something more serious lurking beneath. In this blog, Ai Restoration discusses why fixing stucco cracks may be more complicated than it seems.
Can I Fix Stucco Cracks Myself?
Although you may be tempted to treat fixing stucco cracks as just quickly concealing an eyesore, that is the wrong approach. The moment you see a stucco crack, you should contact a professional stucco company. Doing so will ensure that you have an expert coming to inspect a potentially foundation-destroying problem.
What Can Cause Stucco Cracks?
While stucco is a permeable exterior, meaning that moisture can flow freely, cracks can sometimes be caused by extreme weather conditions. Minor cracks smaller than 1/8 of an inch over time are typical in stucco exteriors. However, any crack beyond that 1/8 of an inch measure should be inspected. These larger cracks may be signs of a serious issue that can affect your home's foundation in a major way.
Why Choosing The "Cheapest" Option Is Not All It's Cracked Up To Be
You may be tempted to choose the cheapest option – including DIY methods. As experts in the stucco restoration and water remediation business for nearly 20 years, we strongly advise against simply choosing based on cost. That's because the quickest (a.k.a. cheapest) fix is probably not fixing the root cause. It's simply glossing over it. This can lead to thousands or tens of thousands in damages if your real problem is water that has crept beneath the stucco and weather-resistant barrier to your foundation. The resulting mold from this issue is not something you ignore. That being said, you should call stucco professionals immediately upon noticing stucco cracks for timely repair.
Ai Restoration: First-Rate Fixing Stucco Cracks
For expert repair in fixing stucco cracks, call our team at Ai Restoration. We will inspect the crack and determine the cause. With that information, we will give you a complete, honest proposal on the proper repair.