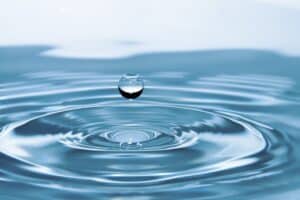 On the topic of stucco problems and what causes them, people often ask: Does stucco absorb water? While many assume that it's not meant to, a properly installed stucco system is actually designed to take on a certain amount of moisture. The key is for the system to allow for swift and effective drainage so that water does not get trapped. If a stucco or other siding system doesn't provide a pathway for moisture drainage, then it's only a matter of time until the elements breach the building envelope, leading to mold/mildew growth and structural deterioration. Let's talk about how a stucco system should perform and what to do if you see signs that your eastern PA home's exterior is failing.
Does Stucco Absorb Water? How a Proper Stucco System Works

When installed professionally, stucco is a resilient exterior building material which can handle quite a bit of moisture. As we mentioned, the answer to "does stucco absorb water?" is "yes" – but, it shouldn't be holding onto that moisture for long. In a successful stucco system, there will be a pathway routing moisture out of the stucco so it doesn't get trapped behind the wall and, with nowhere else to go, seep into the building envelope. 

Unfortunately, it's not at all uncommon for contractors to skip crucial steps when installing stucco and other siding systems, in turn resulting in defects that cause serious water damage to homes and other structures. Stucco problems we see all the time include:

Efflorescence from wicking

– When moisture intrudes and gets absorbed into the plaster behind the stucco due to improper installation 

Blooming and blistering

– When water pools and puts stress on the stucco due to lack of a proper drainage system
If a stucco system doesn't contain all the necessary elements to keep water intrusion from occurring – such as weep screed, flashing around windows and doors and a well-designed drainage path – moisture issues are almost inevitable. To address the problems at hand and keep damage from getting worse, remediation will most likely be needed. This means taking off the existing siding product to gain access to the components beneath, then redoing the system skillfully, according to manufacturer instructions and best practices.

Count On Ai Restoration for True Stucco Solutions 
Fixing a faulty siding system is no walk in the park. To stop damage in its tracks and prevent an even more costly job, it's important to consult a remediation professional right away if you notice signs that moisture is making its way past your siding and into your walls. 

At Ai Restoration, we pride our team on offering the highest quality remediation solutions and customer service in eastern PA. Combining vast expertise with high-performance products and systems, we provide full, long-lasting solutions – not just quick "fixes" to siding flaws. To schedule a free in-home consultation and product demonstration, call us at 215-789-4600.