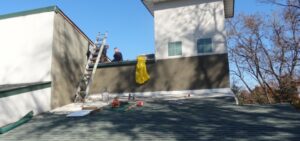 As a business owner, the health and safety of your staff and customers should be among your foremost priorities. In turn, if you come to find that your commercial property has flaws in its exterior, it's important to take prompt action. For skillful, in-depth exterior solutions in eastern PA, look no further than Ai Restoration. Today, we'll talk about the difference between commercial stucco repair and remediation and clarify why remediation is typically our most suggested and preferred route to solve concerns about moisture, mold/mildew, etc.
Commercial Stucco Repair vs. Remediation: Trust Ai for Exterior Work Done Right
If problems have become apparent in the exterior of your business, your first thought might be to have someone replace the siding to see if this resolves the issue. Unfortunately, this relatively simple step probably won't be enough to actually fix the problem, which likely goes deeper than the siding itself. 
Possible culprits of water intrusion and associated damage include:
Lack of a proper moisture management system under the siding

Use of low-quality materials 

Improper flashing around windows and doors 

Use of outdated installation techniques 
If you're potentially facing one or more of these siding system inadequacies at your commercial property, in-depth remediation is the only way to assure that any and all flaws in the siding system can be fully addressed so the same problems won't keep happening all over again. On the other hand, if you opt for commercial stucco repair or re-siding, problems may very well remain, even if you can't see them. 
Partner with Ai to Put Siding Worries Behind You
When it comes to providing a full and long-lasting solution to even the most complex stucco or siding issues, Ai Restoration is proud to have the area's leading specialists on our team. Whether you have concerns about your business or your home in eastern PA, you can count on us to propose and execute a customized plan to solve your siding problems. 
Our experts believe in using proven systems and techniques to fix issues for good – not temporary cosmetic coverups that will end up costing you more in the long run as damage continues unchecked. For more information on our services and to schedule a free on-site consultation, get in touch with us at 215-794-6858.