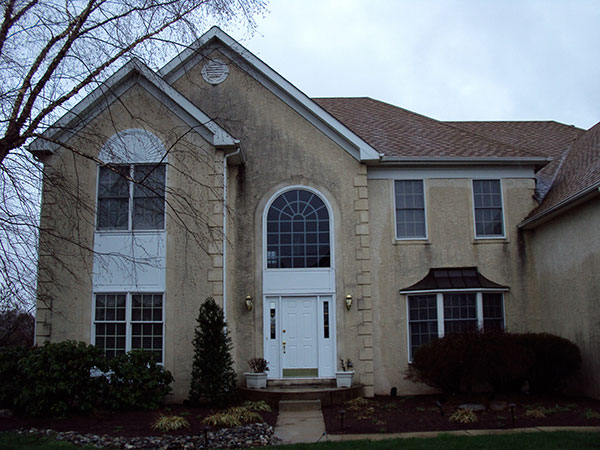 If you notice black stains on your stucco, alarm bells might begin to go off. Is it mold? Is it rot? Is there a problem or is it only a matter of how it looks? Here at Ai Restoration, we want our customers to stay informed. Knowing the ins and outs of your stucco siding can help you stay safe, save time and money, and make better decisions for your home. So, today we're going to help you understand what black stains on your stucco could mean.
Black Stains on Stucco: Causes
First, there are two main reasons why you might see staining on your stucco.
Rain water

– It can wash down contaminants from roof surfaces and windows. These get absorbed into untreated stucco, causing stains and deterioration.

Rotted wood

– This, or deteriorating felt paper, can also "bleed" out from under the stucco.
As you can see, although the first cause may not necessarily bring alarm, the second certainly should. However, untreated stucco comes with its fair share of problems as well. After all, these contaminants may only cause stains now, but they might cause deterioration later.
Black Stains on Stucco: Solutions
Second, how can you tell if your stains come from rain water or rotted wood? Furthermore, what should you do about it? The simple fact is, if you want to avoid costly repairs, remediation, or replacement later, then there's really only one solution: hire a professional. If you simply try to wash off the stains, they'll come back with a vengeance. If you try to treat the contaminants or rotted wood yourself, what guarantee do you have? Instead, consider hiring a stucco professional. Or better, a team of professionals! With experienced expertise, such treatment will give you peace of mind. You may have to face upfront cost, but you're guaranteed to avoid a heftier bill later if something goes wrong because you tried fixing things yourself.
Contact the Professionals at Ai Restoration!
Our stucco experts can tell you whether stains on your stucco are cosmetic or likely due to a larger foundational issue. We've built a reputation as an honest and knowledgeable company and we believe that homeowners should have a full grasp on the work being done on their home with complete confidence in their contractors. Let us know how we can help you, reach out via phone or the form on our site!