The average cost of stucco remediation is dependent on the region you live in given that stucco problems arise from environmental factors like climate. Our area, Eastern Pennsylvania, is known as the stucco failure capital of the U.S., which means stucco damage can be extensive and sometimes cost hundreds of thousands of dollars to fully remediate.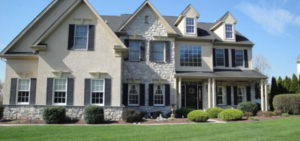 The True Cost of Stucco Repair
When faced with the cost of a full remediation, homeowners may be tempted to opt for quick-fixes to the surface of the stucco, like patch repairs or even a re-side. However, minor repairs totaling a few hundred or a few thousand dollars can wind up costing homeowners exponentially more money down the road when the damage becomes more pervasive.
This is why we typically do not recommend simply repairing your stucco when you see a problem. Small repairs such as cracks or chips may seem like a cheap fix now, but if there are underlying issues you are looking at a much bigger restoration bill down the line. 
What Makes Stucco Remediation Different
With a stucco remediation you can expect to follow the same pricing structure as a stucco repair. Small problems will be less expensive and large problems will be more expensive. What remediation gives you that repair doesn't, however, is peace of mind. With a remediation, you know that your contractor is doing a deep dive into your stucco to ensure that the surface looks great and any underlying issues are being taken care of. With a stucco repair, you don't know if the issue will be solved for a few weeks, a few months, or if in a year or so you're looking at the same problem only much more extensive. 
Determining the Cost of Stucco Remediation
To determine the true cost of full stucco remediation, homeowners need to take in consideration what peace of mind is worth when it comes to future repairs on their home. An experienced company like Ai Restoration offering a comprehensive warranty is priceless, especially for homeowners in the process of selling their home who are interested in avoiding liability for faulty stucco.