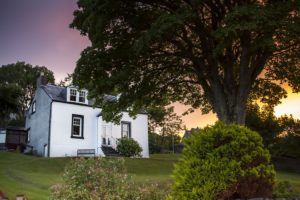 Homes across the country have been using stucco as an exterior option for decades. It is a great alternative to siding, stone, and brick. For quite a long time, stucco was just stucco. There was no alternative to traditional stucco. Then, in the 1960s, synthetic stucco hit the market in the US, after coming from Europe. Synthetic stucco, also known as EIFS stucco, quickly became popular and looked similar to traditional stucco. So, what is EIFS stucco?
What is EIFS Stucco?
For starters, let's define what EIFS stucco is. EIFS is short for Exterior Insulation and Finish System. When you choose a synthetic stucco for your home, you are going with material that has multiple layers. The layers include a foam insulation board, one coat of synthetic stucco, fiberglass mesh and a coat to go on the top of it all. Do you already have stucco on the exterior of your home? Do you want to know how to identify synthetic stucco? Traditional and synthetic stucco can look almost identical. EIFS sounds hollow when tapped, and is softer than traditional stucco – you can feel it deflect if you press on it with your thumb.
The Benefits of Traditional Stucco
Traditional stucco has a number of benefits over EIFS stucco.
Traditional stucco is breathable when installed properly, so water does not become trapped behind it. Moisture trapped behind EIFS can lead to rotting and mold.
It is harder, and will hold up better against hail, woodpeckers, and other conditions that would damage synthetic stucco.
It can be less expensive to install.
It is durable, long-lasting, and versatile when it comes to color and style.
Moisture and Synthetic Stucco
The breathability of traditional stucco is one of the most important differences between traditional and synthetic stucco. It is essential that moisture not become trapped behind your stucco, since this can cause major problems that can be very expensive to fix. Trapped moisture often doesn't become apparent until it's too late. For this reason alone, real stucco is the better choice.
It's important to note that if not installed correctly, traditional stucco can still have problems with breathability, and thus trap moisture as well.
Contact Ai Restoration
Do you have questions about the stucco that is installed on the exterior of your home? Do you want help figuring out whether you have real stucco or synthetic stucco? It's time to speak with an experienced stucco specialist in Pennsylvania by calling Ai Restoration at 215-794-6858 or completing the contact form on our website.