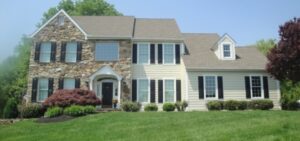 When properly planned and installed, a stucco siding system can effectively safeguard a structure from the elements for many decades. But, if flaws are exposed at any level of the system, stucco remediation may be needed to correct problems and prevent extreme moisture damage. Among other questions, you may wonder: What are the best siding options after stucco remediation? Let's dive into the different choices and how to select the best one for your home or business if you need stucco remediation.
What Are the Best Siding Options After Stucco Remediation?
If your stucco is found to have problems warranting removal and reinstallation of siding, what are the best siding options after stucco remediation? The answer will depend on what you're looking for in terms of appearance and other features. Here's a quick overview of some of today's top options and their benefits:
Vinyl siding

– One of the most commonly used exterior materials for eastern PA homes, vinyl siding provides great insulation and durability. 

Brick veneer

– More affordable than traditional brick, brick veneer comes in several colors and textures to choose from. While it's made from real brick, it requires a less intensive support system and in turn costs less to install.

Stone siding

– A decidedly elegant option, stone siding is available in several different forms: manufactured, real stone and real stone veneer. The right choice will depend on your budget and preferences.

Cement board siding

– Resistant to rot, impact and termites, cement board siding comes in horizontal pieces called laps. A wide range of colors and sizes are available to accomplish different design goals. 
If you'd like, you can also opt to stick with stucco for your remediation. Or, you can combine stucco with other siding options for a distinct look. Regardless, the most important part is that your siding system is installed skillfully using proven products and techniques, with a highly functional drainage path included to prevent future moisture issues. At Ai, we prioritize these details while beautifying structures of all sorts with fresh siding.
Trust Ai for Reliable Siding Solutions 
If you have concerns about the siding on your eastern PA area home or business, it's important to find a professional you can trust to provide true remediation. Our team combines decades of experience with advanced siding products to deliver lasting, watertight solutions. Offering all of the leading siding varieties discussed above, Ai assures top-notch performance of your new siding system when you look to us for remediation. To schedule a free in-home consultation, call us at 215-794-6858.