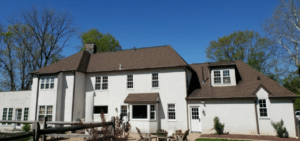 Throughout eastern Pennsylvania and other parts of the U.S., stucco is a popular siding choice for good reason. When expertly installed, this material can easily look great and perform well for many decades. But, how do you know if your stucco was properly applied? Visual cues like wet stucco after rain that remains long after precipitation has passed can signal that the stucco system may lack proper drainage, which can spell larger issues. Let's discuss how to get clarity on such matters.
Is Wet Stucco After Rain a Bad Sign?
If you look at your stucco exterior following a rain or snow storm, you'll likely notice that it looks a bit darker than usual. This is due to moisture penetration into the stucco, which is a porous material. In turn, it's normal to see — at least up to a point.
In some cases, stucco doesn't return to its normal appearance in a timely manner after precipitation, thus signaling that there's likely a problem. Here's what persistent wet stucco after rain could mean:
The stucco is too thin and is being overwhelmed by moisture.

The necessary components for draining water out of the stucco are either inadequate or totally missing.

The moisture is penetrating into the stucco and underlying building materials, where it is becoming trapped since it has no place to go. 
If one or more of the above is true, it's important to seek out a professional solution as soon as possible. Left unaddressed, a flawed stucco system can cause serious leaks, mold, mildew and rot — one of the last things you want for your home and family.
Call Ai for Service You Can Depend On
When insufficiencies are uncovered in stucco or another siding system, Ai Restoration is the team to call in eastern PA. Committed to delivering thorough, professional work using the highest quality products for protecting exteriors, we are unmatched when it comes to local siding remediation work. 
To learn more about how we can help you put your stucco concerns behind you by pinpointing the issues at play and addressing each one of them, call us at 215-794-6858.