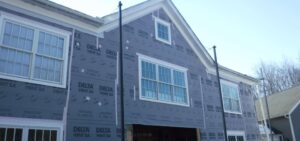 As a siding material, stucco has a long-standing reputation for being resilient and versatile. But, in order for these perks to be delivered, proper installation that includes waterproofing stucco walls must be carried out. Let's dive deeper into what this entails and what can happen if the proper measures aren't taken to protect an eastern PA stucco house as it's exposed to moisture. 
Waterproofing Stucco Walls for Lasting Protection
At Ai Restoration, we excel in addressing stucco system inadequacies such as lack of effective underlying drainage or flashing. We also all too often find that a cheap, thin moisture barrier product was installed under stucco, setting the stage for moisture to come into the walls over time and cause mold and mildew concerns.
How exactly does our team respond when a homeowner notices red flags like leaks or disintegrating stucco, or if a stucco evaluation suggests insufficient waterproofing that could be resulting in extensive moisture damage? Take this project we recently completed as an example:
Our homeowners discovered some damage caused by water leaking in under their existing siding. We repaired the damages, installed our self-adhered Delta Vent SA water management system, reset the windows with sill pan flashing and then installed new James Hardie shake siding. We updated and installed new cable railing on their roof top deck, too. A beautiful home, now well protected from the elements thanks to our professional application of a top-quality system!
Explore Real Siding Solutions with Our Pros 
If you are concerned that your stucco or other siding system isn't cutting it in terms of handling moisture, it's important to act as quickly as possible to get this resolved. With our remediation experts, you can rest assured that your siding will be done correctly – according to manufacturer instructions and incorporating all the necessary components for moisture control and venting – whether you choose to remediate with:
Stucco

Vinyl siding

Brick

Stone

Or a combination of materials
To learn more about our proven exterior solutions, our methods for waterproofing stucco walls and what makes our work superior to that of other local companies, contact us at 215-794-6858 to set up a free in-home consultation.