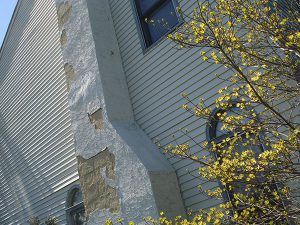 Stucco can be beautiful as siding on a home, but it can be a difficult material to repair if it gets damaged. Often, problems such as mold and rot can't be seen from the outside, but are present underneath the stucco. Leaving these damaging factors alone for too long can lead to greater deterioration. Stucco siding repairs should be completed as soon as possible by stucco experts such as the craftsmen at Ai Restoration. We provide the experience and skill necessary to complete stucco siding repairs quickly and accurately to preserve the beauty and quality of your home's siding.
Types of Damage and Stucco Siding Repairs
While stucco siding damage needs to be addressed quickly, many stucco-only companies will jump to the recommendation of completely removing and replacing damaged stucco. This is both expensive and ineffective. Without addressing the source of the damage or deterioration, the same problems can recur to the new stucco, which wastes a lot of time and money.
Ai Restoration has extensive experience and diversity in stucco remediation and stucco siding repairs, so we can diagnose and address the true cause of the damage. There are many different types of stucco damage that can lead to bigger problems if left untreated, including:
Cracks. Cracking can be linked to underlying sources like water, improperly applied stucco, or missing joint work. Untreated cracks can expand, causing further damage to your home.
Mold. No homeowner likes to hear that they have mold, whether it's in the basement or growing on or behind their stucco siding. The causes of mold on stucco are very specific to each home, and must be identified by an expert before the mold spreads too far.
Stucco that extends below grade. This is a result of improperly applied stucco, and can lead to further problems with moisture and drainage.
Deterioration. Unsealed stucco deteriorates over time. Deterioration and aging can be expedited by causes like improper mixing, pressure washing, and landscaping that is too close to the wall.
Gaps around windows and doors. Improper construction can lead to these gaps, which can lead to further structural damage if left unaddressed.
Contact Ai Restoration for Expert Stucco Siding Repairs
Ai Restoration has over 17 years of experience with residential stucco restoration and water remediation. Our specialists understand that each project is unique. Contact us for a consultation if you need expert stucco siding repairs or other stucco, stone, or siding services.