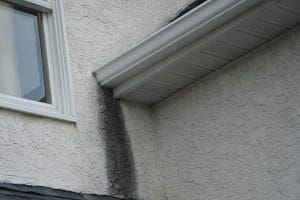 As DIY blogs and self-taught "experts" are a dime a dozen, searching the internet for the easy way to take on difficult home improvement tasks is tempting. When we search for "how to remove stains from stucco," countless suggestions are likely to pop up. Yet the reason professional stucco remediation and restoration can be costly is because they both require an expertise that can only come with years of experience from a team of stucco specialists.
All Stains Are Not Created Equal
Some apparent stains can actually be caused by fading from light exposure. However, most stucco staining is the result of moisture, whether directly or indirectly.
Rust: Metal can rust over time, and with grates, gates, and gutters abounding on and near your home's exterior, it's likely your stucco will come in contact with rusted metals.
Mold/Mildew: Mold and/or mildew can have two causes. First, if moisture becomes trapped on the surface due to constant contact with brush or a tree, mold may grow. Second, and more problematic, mold or mildew can grow as a result of moisture becoming trapped beneath the moisture barrier between the stucco and your home's foundation.
How To Remove Stains From Stucco
If you're considering attacking that stucco stain on your own, we suggest you consider two things.
As durable and reliable as stucco is as a protective exterior, if it was not installed properly, moisture from cleaning could cause problems. Pressure washing, harsh scrub brushes, and abrasive chemicals will damage your stucco and result in a more costly situation.
Certain stains on stucco are signs that there is likely damage underneath the exterior, such as mold, mildew or rot. Simply covering up the stains could be masking a bigger problem.
Don't Neglect Stucco Maintenance
To prevent costly stucco repairs, the answer is simple: regular stucco maintenance. Being vigilant about stucco stains, cracking and crumbling, or any other home exterior concern of your stucco exterior is your best bet. To avoid making an expensive mistake, be vigilant and know that stains are a sign of possible underlying damage, and shouldn't just be painted over without expert consultation.
Ai Restoration Offers Superior Stucco Care
If you're searching how to remove stains from stucco, it's possible you need a consultation on your home's exterior. If you notice something concerning about your stucco, the best course of action is to act quickly and to contact a professional. We will put our 20 years of experience to work for you!