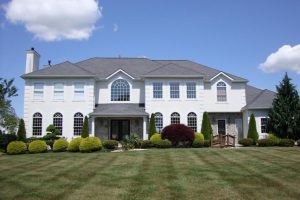 From a distance, faux stucco siding and traditional stucco appear similar. But if you look closer, you'll discover there are key differences. In this blog, the experts at Ai Restoration explain faux, or synthetic, stucco siding and traditional stucco.
Faux Stucco:
What's it made of? Faux stucco is made of acrylic resin, with sand added for texture.
How is it installed? Faux stucco siding is applied in four layers. The base layer is foam insulation board. The layer of synthetic stucco comes next. Third, fiberglass mesh lays on top of the stucco to provide a surface for the top coat to adhere to. Finally, a finishing coat seals the synthetic siding.
Traditional Stucco
What's it made of? Although traditional stucco has been used in North America since the 19th century, its mixture has changed. For well over the past century, it's been made up of Portland cement, lime, sand, and water. Differences in appearance, cost, and strength come from the varying amounts of each ingredient.
How is it installed? We plan our installation projects for traditional stucco over several days in dry weather. First we wrap the home's foundation in weatherproofing material. Afterward, we lay down a layer of wire mesh. Then, we apply the first layer, or the rough coat. Once that is completely dry, we apply a second layer of stucco for evenness. Finally, the third coat provides any specifics chosen by texture.
The Benefits: Faux Stucco Siding vs. Traditional Stucco
Both offer energy efficiency ideal for homeowners, especially for those bitter cold winters and hot and humid summers. For a wet climate like ours in the Northeast, traditional stucco stands up better over time. Traditional stucco is also considered much more durable as it can hold up better against harsher elements and heavier impacts.
Both exteriors are also exceptionally elegant for classic homes. They come in many different color and texture options, though traditional stucco does offer more variety as it is hand-mixed. Traditional stucco also comes in at a more affordable price. And, when traditional stucco is well-maintained, it can last 80-100 years!
The Bottom Line
Whatever siding you choose, you can be confident that Ai Restoration will get the job done right. With nearly 20 years of experience with siding and water remediation, we have the knowledge and ability to help you. For a home exterior that is beautiful and durable, call Ai Restoration.