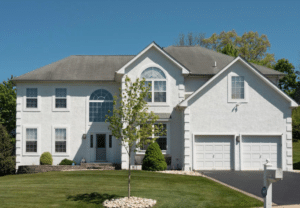 Whether your home is hundreds, decades or only a couple of years old, the unfortunate truth is that siding system issues can surface at any time if the original installation wasn't completed skillfully. On a stucco home, for instance, cracks in stucco around windows might appear if moisture management problems are at play. So, how do you determine if your stucco imperfections are just cosmetic, or if they require action on your part to handle and prevent worsening structural damage? Let's discuss the right steps for finding out.

Cracks in Stucco Around Windows: Sign of Improper Installation

If something seems "off" with your stucco, it's important to seek the opinion of an exterior professional as soon as possible. Here's why:
Left unaddressed, stucco system flaws can result in devastating water damage.

For example, missing or inadequate flashing around windows and doors — or lack of a high-performance moisture barrier — can result in water penetrating at these openings and getting into the walls.  

With nowhere to go, this moisture will breed mildew, mold and rot, possibly leading to leaks and creating an unsafe living environment for your family.
Cracks in stucco around windows are one of the most common signs indicating that the system beneath the exterior is failing to properly handle moisture. And, these problems are bound to get worse until you attend to them. 

Resolving Stucco Issues the Ai Way

If you're worried about the status of your stucco, Ai is here to bring you peace of mind. Our remediation professionals will give you an honest assessment of the situation we find and propose a plan of action to fix the issues in full. This testimonial demonstrates our commitment to quality work and service from start to finish:

"Ai did an awesome job on replacing our stucco. From the beginning, they were clear on what needed to be done and the possibility of increased scope. At each step, they explained what was needed. They were timely, professional and did an excellent job. They were great communicators. Best of all, our house looks great. We highly recommend them!" -Neil

Ready to get started with a free consultation and demo of how our systems work? Reach out at 215-794-6858.