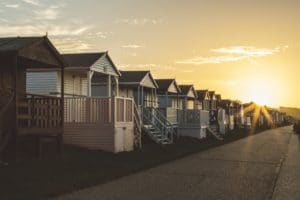 We use a couple of different siding options at Ai Restoration. But when it comes to beaded vinyl siding, there are a few reasons why our clients love it. Introduced in the 1950s to replace aluminum siding, vinyl siding has become a staple for contractors and homeowners across the US.
At the same time, it should be noted that not all beaded vinyl siding is created equal. Vinyl siding can have a reputation of sagging and warping. Generally that reputation comes from old forms of vinyl which are no longer in use. The product itself and techniques for installing vinyl siding have changed drastically since 1950 so there's no need to worry about those problems anymore. That being said, here are some of the reasons  we install beaded vinyl siding, and specifically Carolina Beaded™ made by CertainTeed™.
The benefits of beaded vinyl siding:
Premium thickness. Carolina Beaded™ vinyl siding comes in at .044 inches in thickness. Some beaded vinyl siding can be as thin as .035 inches. While the difference might not seem like much, the difference in thickness will prevent sagging and warping over time. We go with a premium beaded vinyl siding because we want our hard work to last over time.
Affordable and secure installation. While we choose to use a premium vinyl siding which ends up being similar in price to the highest grade of cedar, you will find big savings during installation. Carolina Beaded™ vinyl siding goes up really fast because of its STUDFinder™ installation system. Using a marking system that ensures the vinyl is attached to the STUDs in your home, the STUDFinder™ installation system will and create a secure connection between the siding and your home.
No painting…ever. We use Carolina beaded vinyl siding made by CertainTeed. Like all vinyl siding, it never needs to be painted. Our beaded vinyl siding looks great from the beginning and the protective coating that comes standard means your siding can go without paint or the costly maintenance that is associated with wood or aluminum siding.
Vinyl Siding is one of Ai Restoration's preferred siding products
According to thisoldhouse.com, "vinyl has captured 32 percent of the U.S. siding market for new homes." While there are certainly other great options out there, the success vinyl siding has had come from the fact that it's extremely durable and maintenance free, while remaining great to look at.
If you're interested in hearing more about beaded vinyl siding, stucco remediation, or any of our services give us a call or send us an email. We'd be happy to go over any information you might need or schedule an appointment to see which cost effective solutions would be best for your home.
Ai Restoration
215-794-6858
info@airestoration.com