We've already discussed why stucco without control joints is a bad idea – but what exactly do stucco control joints do? How can stucco control joint installation improve the longevity of your stucco exterior? We took a deep dive to answer these questions and more.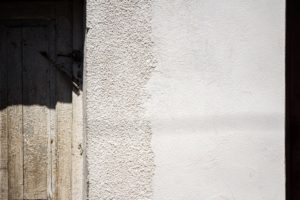 What do stucco control joints do?
The purpose of a stucco control joint is to relieve stresses on the stucco and reduce cracking and other damage caused by those stresses. Things like changes in temperature, humidity, and even ground movement can all put stress on the stucco exterior and leave it vulnerable to cracking. Stucco control joints are used to provide separation between various sections of stucco and give them flexibility when under stress. 
One Piece Joints
A one piece control joint gives the stucco panel the ability to move back and forth along a single plane. These joints are typically "M" or "V" shaped, and give the panel flexibility to move left to right or up and down as necessary. It is recommended to use control joints between panels. 
Two Piece Joints
Two-piece joints retain the side to side flexibility of a one piece joint, with the added ability to move up and down, or along two planes. Two-piece joints are helpful around borders, windows, and areas where the stucco meets another substance such as a roof, because these areas are more vulnerable to multi-planar movement. 
How do I know what control joints to put where?
Lucky for you, you don't need to know! The professionals at Ai Restoration are experts in all things siding and are uniquely qualified to help plan your stucco project from start to finish. All you have to do is give us a call and we'll get you started!