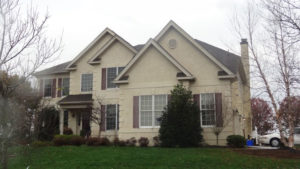 If you own a stucco home or are thinking about buying one, you need to have a stucco inspection completed. While it's easy to see obvious damage with the naked eye, here's why hiring a professional inspector is still essential.
Why do I need a professional stucco inspection?
As a stucco repair and remediation company with nearly 20 years of experience, we've seen it all at Ai Restoration. From surface cracks to foundational rot, no problem surprises us. Most often we find more severe stucco problems in homes with infrequent—or nonexistent—inspections. Furthermore, we often find the most problematic signs of damage in parts of the home that inexperienced individuals would miss. Even a standard home inspection may not reveal the seriousness of damage incurred in a stucco home, since it can hide deep within the framework. A professional can also offer greater insights depending upon if your home has EIFS, or synthetic stucco.
Should I avoid buying a stucco home?
Absolutely not! Stucco is an affordable, beautiful, and durable material. When properly installed and maintained, your stucco home will serve you well over the decades. But you must have an in-depth stucco inspection completed BEFORE you purchase a home. This will tell you the condition of the stucco and underlying foundation. Once you purchase a stucco home, a significant part of proper maintenance is having an annual stucco inspection completed to make sure no problems have cropped up. This helps you to avoid what could amount to a costly remediation.
What if my stucco inspection finds a problem?
Strangely enough, it's good news to find a problem, as opposed to it remaining hidden until severe damage has been done. After all, once you find the problem, you can solve it. The worst choice any homeowner can make is to wait for an issue to become extreme. Then, the livability of your home is in danger. Annual stucco inspections help you to avoid any problem imperiling the safety and comfort of your home.
Contact Ai Restoration Today to Discuss Your Stucco Inspection!
At Ai Restoration, we're confident we can detect and repair any issue with your stucco home before it becomes major. Even if you haven't been consistent with home inspections, we can lend a hand with remediation if needed. Give us a call today at 215-794-6858!