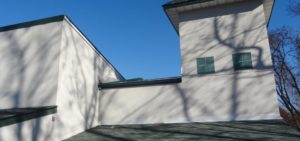 Many people think that painting your stucco is the best way to seal and color your home, but this is a myth! Common exterior paint is not made for stucco and can damage stucco's breathability and trap moisture. If you want to keep your stucco looking great and lasting as long as possible, traditional paint is not the way to go. The alternative is having a professional seal your stucco home with a specialized coating material that will be able to make your home look like new again!
Ai Restoration is a Somerset County stucco remediation company and our skilled craftsmen have decades of residential and commercial stucco experience. Although stucco is a popular choice for exteriors, it is tricky to properly repair. Only a true expert can do the job right, and those at Ai Restoration are trained to know exactly how to treat and repair stucco correctly.
As we mentioned above, traditional paint is not the way to go to seal and waterproof your stucco. So why is our specialized sealant material better? Here are the facts about proper sealant from your Somerset County stucco remediation company:
Waterproof – Unlike sealant, paint can actually trap moisture within your stucco walls. This can lead to a whole host of problems such as mold, stains and more. Save yourself a big repair bill and instead of paint,  invest in a fresh coat of water-resistant sealant that will protect your stucco from moisture.
Breathability – Stucco is a naturally porous material, so its top coat needs to allow it to breathe. With Ai Restoration's elastomeric coating material, your stucco won't be suffocated and can stay protected in its most natural state.
Crack Repair – If you have cracks wreaking havoc on your stucco, a good sealant can repair them. Plus, it'll help prevent future cracks by giving your stucco a little more flexibility.
Warranty – Ai Restoration can provide you with the longest and most legitimate warranty in the industry. So let's get sealing!
Contact This Somerset County Stucco Remediation Company Today!
If you're looking to protect your stucco from water, mold, stains and cracks, this Somerset County stucco remediation company can help. By getting your stucco properly sealed, you can prevent many of the most common stucco issues and keep your home lasting a lifetime. If your stucco home is in need of a fresh coat of sealant, you can request an estimate from us or call us at 215-794-6858 to schedule an appointment! And if you're looking for more stucco tips and tricks check out our blog on preventative maintenance!