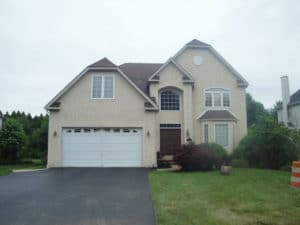 Dressing up your home's exterior with new lighting, shutters, or other additions can seem like an attractive option. However, installing these weighty items causes a risk to the integrity of your stucco. To learn about how to hang lights on stucco without doing damage, read this blog from the experts at Ai Restoration.
How To Hang Lights On Stucco
With aisle after aisle of home construction supplies, it seems like installing your own outdoor lights should be simple. However, with a stucco exterior, you cannot simply plug up holes from previous lighting fixtures and drill new holes. In fact, drilling any holes into your stucco exterior risks damage and destruction caused by mold and rot.
The Rotten Risks Of DIY
The first time we do anything in life, the results are rarely perfect. Yet, when installing heavy light fixtures in a stucco exterior, there is no second chance—at least no second chance that doesn't come with serious repair costs. Here are just a few things that can go wrong when homeowners attempt to learn how to hang lights on stucco instead of calling professionals.
Breaking The Water-Resistant Barrier: Drilling holes to install heavy lighting destroys the weather proof house wrap and other protective layers of stucco that keep your home's foundation from being damaged by moisture.
Causes Cracking and Crumbling: If a hole is improperly drilled into stucco for light installation, cracking and crumbling are sure to follow. Without protective measures, the hole will not remain small but grow. This in turn leads to a weaker, less durable exterior.
Detachment and Damage: Due to the heavy weight of lighting fixtures and the fragility of stucco, it is likely that an improperly installed light will fall off the exterior, taking large chunks of stucco with it.
Each of these risks cause visible damage to you home and allows moisture, mold, and rot to invade your home's foundation. Thus, when it comes to installing outdoor lights and lanterns on your stucco exterior, it's important to hire a stucco professional.
Enlist The Experts To Install The Lighting On Your Stucco Exterior
Although DIY tip blogs and videos abound, you risk the integrity of your stucco home and expensive damages if you install lighting yourself. Instead of taking unnecessary risks, call in our expert team at Ai Restoration to assist you in installing your outdoor lighting.