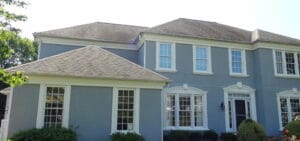 Your home should be a place where you can feel comfortable, protected and at ease. In order to maintain a safe home, it's crucial for your exterior to be well designed and installed, with a proper system in place to manage the elements. Otherwise, you risk facing moisture intrusion, mold and mildew growth and loss of structural stability that can jeopardize your family's health and safety. If flaws are uncovered in your siding system – whether it's through a routine siding check or because you've noticed leaks – then it's important to find an exterior home restoration service you can trust.
Exterior Home Restoration from the Experts: The Ai Difference
At Ai Restoration, we know that it can be incredibly overwhelming to hear that your home's exterior needs remediation. This is why we take our role as eastern PA exterior home restoration specialists very seriously. Over the years, we've worked on thousands of homes and other structures in the area, and we've resolved all sorts of issues. 
From window leaks caused by improper flashing to in-wall moisture intrusion resulting from absent or poorly designed water-resistant barriers, we work to properly and fully address issues stemming from siding system faults. Unlike some contractors, we never take shortcuts when repairing water damage and correcting deficiencies.
Here are details on a few of our projects which demonstrate our commitment to providing a comprehensive solution for any sort of siding concern:
Larry and Elizabeth met us while we were working at their neighbor's home in Maple Glen, PA. The Ai Restoration crew was able to address all of their stucco concerns as well as update their home with custom trim. This was exactly what they wanted and they love their "new home."

John's inspector found a number of concerns and recommended Ai Restoration. John felt with that kind of a recommendation it was easy to trust Ai Restoration. We addressed John's concerns and worked with a mold remediation company so John and his wife have peace of mind and a safe home in Newtown, PA.

Jerry and his wife noticed the stucco on the front of their Pipersville, PA home was cracking and had occasional water leaks during heavy rain. Ai Restoration was contracted to remove the stucco off the chimney. After demo, we noted several construction concerns. Ai corrected all the faults before reapplying the new cladding.
Whether your home's current exterior is stucco, stone, vinyl, metal or a combination of siding materials, our professionals have the skills and training needed to properly remediate it. We can even install a different type of siding, if you'd like to transform the look of your home.
Depend On Ai to Provide a Professionally Executed, Long-Lasting Restoration Solution
At Ai Restoration, we take care to deliver the highest quality work and to communicate clearly with our valued customers throughout every step of a restoration project. We also stand by our work and our products, with a comprehensive warranty that holds water. To request a free in-home consultation with our experts, reach out to us at 215-794-6858.