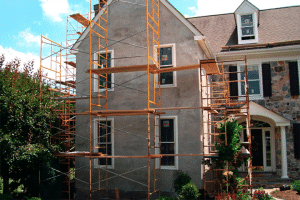 We live in the age of "Do It Yourself" – also known as DIY. From homemade beauty remedies to full-house renovations, it almost seems there is nothing you can't do yourself if you are up to the task. This can be great – sometimes it saves money, and of course, it feels good to know you've accomplished the job on your own. But DIY has a downside too. Not all projects are meant to be DIY. When it comes to stucco, it's possible to grab some tools and attempt a DIY stucco repair, but the experts at Ai Restoration highly recommend calling in a professional.
We certainly commend you for wanting to take the DIY-route, but as experts, we have laid out 3 reasons why DIY stucco repair is NOT recommended by professionals.
Repairs may not last – Professionals will know how to do the job right the first time around. Sure, you may think you've done a bang-up job on your DIY stucco repair project, but in reality you could be in for trouble in a few months–not to mention an even pricier problem than the first.
Store-bought tools and materials are insufficient – A well-established stucco repair company will have access to high-quality tools and materials meant for long-lasting repairs. Tools and supplies bought at a local hardware store aren't always made to withstand the elements for years and years.
DIY-ers don't have background knowledge – A first-timer attempting DIY repair may have studied up on the job, but they probably don't have the background knowledge to detect hidden signs of damage. Weather problems, crack sizes and house settling issues are a lot harder to understand than a quick Internet "how to" page may let on. A professional, however, will have seen these issues many times before, and so will detect any subtle signs of deeper issues. When undetected damages may cost hundreds of thousands of dollars, it's worth an expert diagnosis.
Contact Ai Restoration and Avoid DIY Stucco Repair Problems!
Our testimonials from satisfied clients say it all – we're experts in stucco ready to provide your home with top-notch care! If you're still itching to get your hands dirty, one thing you can do is follow our list of stucco preventative maintenance tips. And when you find it's time for a little (or big) maintenance job, call us right away at (215) 794-6858.