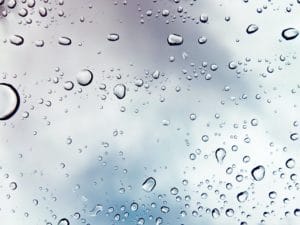 Stucco as a siding material has a long list of pros. It's energy efficient, fire resistant, low maintenance, and adds great curb appeal to your home's exterior. Its smooth, traditional look has made it a popular choice for homeowners. However, every rose has its thorn, and one of stucco's spiky thorns is moisture! Read on to learn about the most common stucco moisture problems, and the steps you can take to remedy these issues.
Moisture: Stucco's Arch-Nemesis
Stucco is great in climates that are warm and dry, but for those of us in the Greater Philadelphia Area, we have to work a little harder to mitigate the problems a rainy climate can cause. Some of the most common stucco moisture problems include:
1. Stained stucco: The most common stucco problems include trapped moisture behind the stucco. This results in "stucco tears"—discoloration of stucco beneath windows.
2. Stucco mold:  Another type of damage caused by this trapped moisture is the formation of mold, which can grow into a scary infestation of black mold.
3. Cracks in siding: Smaller cracks around windows and doors are typically the results of water damage. Don't ignore these cracks! Water can enter through them, leading to even more costly internal damage.
What Causes Stucco Moisture Problems?
You may be wondering why your stucco isn't strong enough to stand up against moisture. While stucco is a naturally absorbent material, this shouldn't be a problem if you apply proper water management measures to the home. Here are some possible reasons behind the most common stucco moisture problems:
Improperly installed stucco: An inexperienced contractor might miss some steps or cut corners, resulting in an installation that might not be watertight.

Insufficient stucco drainage: A drainage system is added at the bottom of the walls during installation. But, if the system is mishandled, the walls will end up absorbing the water.

Shoddy sealing: Neglecting to seal the stucco that's around windows and doors, or using an inferior sealant, can easily lead to moisture damage.
As you can see, a quality, professional stucco installation is essential to ensure a safe, watertight seal.
Stop Stucco Moisture Problems – Call Ai Restoration
It's important to stop stucco moisture damage in its tracks, before it gets worse and costs you thousands of dollars and headaches. At Ai Restoration, we've seen all of the most common stucco moisture problems, and have conquered them all! No matter how big, small, or complex your water damage is, we can repair it and restore it to its original beauty. Furthermore, we install water management systems under any and every facade, including brick, stone and vinyl siding, to stop moisture damage before it happens! Get in touch with our team today and learn more about our water damage remediation and prevention services.