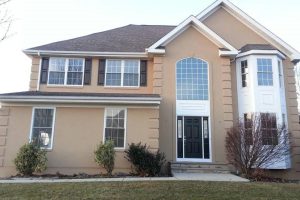 If you walked out in a rainstorm with only a poncho to keep you dry, how long would you stay completely dry? Not very long at all. Then why do we, as homeowners, expect our homes to stay perfectly dry without adequate protection from moisture? With any stucco or siding, a quality water-resistant barrier, such as Benjamin Obdyke's HydroGap Housewrap, is needed.
Hidden Issues Lead to Major Problems
When a proper water management system is not installed prior to stucco installation, major problems will arise. This is because the water will have no escape. Without an escape route, the damage to your home will be severe. Our team at Ai Restoration has been called in to inspect and remediate countless stucco homes that have incurred severe damage due to improper installation of a water barrier. With no way out, water causes intense mold and rot leading to thousands of feet of stucco damage and tens (or even hundreds) of thousands of dollars in remediation costs, relating to:
Removal of rotted doors and windows
Extensive repair due to mold
Replacement of doors and windows
Proper flashing Installation
Roofing work, and more.
These problems can be avoided by using high quality products and an experienced stucco remediation AND water management company like Ai Restoration.
HydroGap Housewrap Heightens the Value of Your Home
When it comes to your home, calling in the experts to do the job right the first time is your best choice. With nearly two decades of experience, we know that high-quality materials along with careful and skilled installation are a must to ensure your home is completely protected. We choose to use Benjamin Obdyke's HydroGap Housewrap because of its proven reliability.
What makes HydroGap Housewrap special? It's a drainable housewrap that is proven to remove bulk water up to 100 times faster than a standard housewrap. Additionally, thanks to its innovative design, it doesn't interfere with most designs or wall assembly.
How does HydroGap Housewrap work? When properly applied, this drainable housewrap eliminates the likelihood of leakage around doors and windows. Plus, it creates a drainage space between the foundation and the stucco, allowing water to instantly escape.
With our extreme weather in the Northeast, such protection is crucial.
Hire the Experts with the Highest Expectations
At Ai Restoration, we are determined to give you accurate and honest estimates that we can fulfill. If you think you may have a problem with your stucco home, don't wait another moment to ask for help. Call us today at (215) 794-6858.