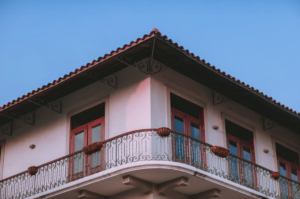 Have you ever found yourself wondering: how is stucco made? This blog covers the basics of stucco: how it's made, how it gets its color and how it's applied to your home.
How is Stucco Made?
When it comes down to it, traditional masonry stucco (used on the exterior of homes), contains a mixture of lime, sand, and cement. When properly mixed, the stucco hardens into a material that can be applied to the exterior of your home and is incredibly easy to maintain.
What is a Basic Mix of Stucco?
When applying stucco to a home, it's important to mix all of the batches on-site so that they look as close to the same as possible. A basic mix of stucco will feature the following:
Sand
Portland Cement
Lime (a chemical compound that is hydrated to 10 percent of the cement by volume)
Water
Strong stucco will take a while to dry. In some cases, it might be necessary to shade the stucco to keep it from dehydrating too quickly, which could make it weaker. Likewise, if the temps are below 40 degrees, it's best not to install that day, lest it have problems drying or mixing.
How is Color Added to Stucco?
The third coat of stucco—also called the wall finish coat—adds the color and texture of the exterior. A dry tint is added to this coat to get the desired color. Popular choices include yellow, red, beige, orange, pink and white.
The color of this coat may vary slightly throughout the application. Natural variations in shade and texture are actually considered part of the character of the stucco. However, any big differences in color or texture in a single wall are a sign of poor workmanship.
How is Stucco Applied to the Exterior?
This is where things get tricky. If the stucco mixture is not applied to the exterior correctly, water can get trapped behind the stucco. The material behind the stucco will then start to mold or rot, compromising the structure of your home.
Water damage can cause serious problems to the exterior building envelope, so it's best to invest the time up front to ensure your siding is installed properly. If the stucco is already installed, it's best to have it evaluated to make sure any water issues are caught as early as possible.
When applied correctly, the system should have the following elements:
A galvanized wire mesh, known as lath, added to the exterior of the home
A drainage plane at the foundation of the wall, called a weep screed
Stucco, applied in three coats on top of the lath
Call Ai Restoration for Stucco Remediation
If learning how stucco is properly installed has caused you to worry that your stucco was applied incorrectly, we can help. Call Ai Restoration at 215-794-6858 for a consultation. We'll answer your questions and get to the bottom of your concerns.