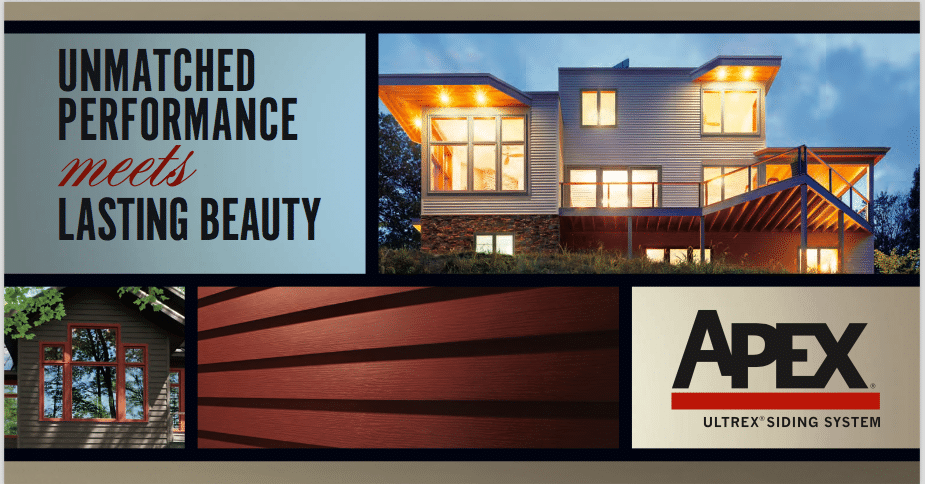 There are countless siding products on the market today. But if there's a siding that out-performs the rest, both in terms of durability and aesthetics, it's APEX fiberglass siding. APEX, an affiliate of Marvin® Windows and Doors, is a Minnesota-based company with over 100 years of experience. And their years of experience is just one of the many reason why we choose APEX Fiberglass siding.
Why We Choose APEX Fiberglass Siding
High Performance
When it comes to withstanding the elements, no one does it quite like APEX. Vinyl, wood, even steel and fiber cement siding aren't able to stand up to extreme weather conditions the way APEX can. What's their secret? It's their use of Ultrex®, a patented pultruded fiberglass pioneered by Marvin that has been used in residential and commercial construction for over 20 years. This fiberglass siding is highly moisture and impact resistant with strength and durability that is unmatched.
Low Maintenance
Life is short. So why waste your weekends repainting your house or recaulking your siding every few years? Because of its high performing durability, APEX fiberglass siding is extremely low maintenance. It won't fade or crack. And the tight seams don't require caulk at installation making for one of the lowest maintenance siding products on the market.
Beauty That Lasts 
APEX is engineered to withstand conditions that would damage wood, fiber cement and vinyl siding. The acrylic finish is incorporated into the material itself which helps the siding resist fading and keep its rich color for years to come. Their state of the art engineering makes for a siding that resists fading, warping, chipping, and breaking.
Innovative Water Management
APEX's uses a cutting-edge water management system unlike any other siding system on the market. Rain Screen Engineering provides two layers of protection from moisture intrusion.
The siding itself serves as the first layer. And as an added layer of defense, there is a continuous natural drainage plane created behind the siding. Not only will any moisture that manages to penetrate the first layer drain away, the circulation of air behind the siding means water will evaporate. This double layered defense significantly reduces the chances of moisture becoming trapped behind your siding. And that decreases the chances of costly water damage to your home.
Precision Installation
APEX fiberglass siding is a fully integrated, cohesive system that, unlike other exterior systems, requires no caulking. And its self-aligning, interlocking design means no gaps, sags, or visible nail holes; the result is a beautiful home with the clean lines of quality craftsmanship.
Call Ai Restoration for an Estimate
Ai Restoration knows siding materials inside and out!  And our installation system well exceeds the industry standards.
And in our effort to continuously improve and broaden our expertise, we are proud to announce that we've signed an agreement with Marvin Windows & Doors/ Integrity from Marvin to be an authorized Marvin contractor. We believe they offer some of the best products in windows, doors, and fiberglass siding!
Contact us at 215-794-6858 for an estimate today!